Steel in the News
Back to all posts
Monday Morning Coffee
Posted by
Tom Klemens
on August 23, 2010 at 9:09 AM.
How time flies – this past weekend marks the 9th anniversary of the shutdown of the world's first webcam.
Predating the World Wide Web, the Trojan Room coffee cam was set up in 1991 by researchers at the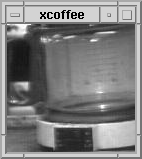 University of Cambridge Computer Laboratory to allow those in more remote offices show to know whether it was worth making a trip to the coffee pot. The system used a once-per-second frame-grabber and rudimentary server and client programs (which late became XCoffee) to display a small icon-sized image in the corner of users' screens.
Quentin Stafford-Fraser was one of the researchers who contributed to its deployment. "The image was only updated about three times a minute," he wrote on one of the Coffee Pot web pages, "but that was fine because the pot filled rather slowly, and it was only greyscale, which was also fine, because so was the coffee."
When the computer lab was moved in 2001, the machine serving up the images was among the older equipment scheduled for replacement rather than relocation, and so the camera captured its last image on August 22, 2001. You can view it here.